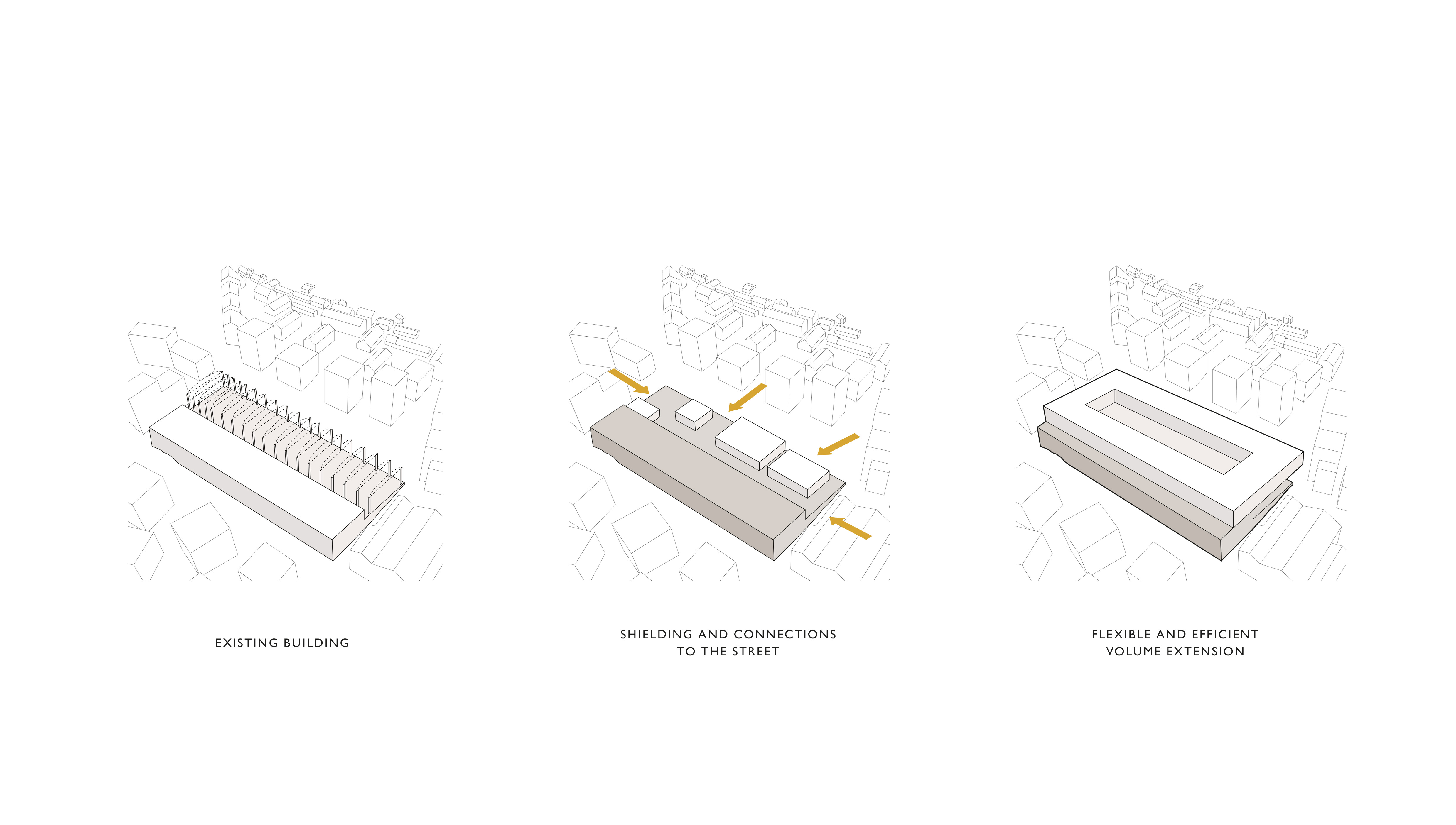 Politihøgskolen, Verket i Moss
_

date: 2020
status: Ongoing
type: Campus
client: Høegh Eiendom
Politihøyskolen kan være en viktig brikke i utvikingen av Verket. Det vill kunne bringe studenter midt i hjerte av fremtidig bydel.


Prosjektet illustrerer mulighet som ligger i transformasjon av gjenværende industribebyggelsen og hallene som en unik utgangspunkt for en fremtidsrettet undervisningscampus.

Eksisterende bebyggelsen er i utgangspunkt ikke vernet men en ser verdien i å forsøke å transformere den i stedet for å bygget helt nytt. Både fordi den er viktig historier barer for området og fordi en ser åpenbare miljø-og bærekraftsfordeler av bevaring gjennom transformasjon.

En effektiv maskin bygget i tre tilføres på toppen med utforming inspirert av det industrielle og en base som kobler prosjektet til stedet og de forskjellige høyder i området. Et fleksibel og robust utgangspunkt for utvikling av et kompleks program. Det legges til rette for at deler av programmet knyttet til idrett og trening kan benyttes av øvrig befolkning i området og på den måte integreres skolen i nabolaget.

The police academy can be an important piece in the development of Verket, bringing students into the heart of this new residential neighbourhood. The project illustrates the opportunities that lie in the adaptive reuse of existing industrial buildings and halls, as a unique starting point for a future-oriented teaching campus.

Although the existing building is not protected, there was a clear value in endeavouring to preserve it instead of demolishing and rebuilding, both because the building is an interesting remnant of the area's past and because of the obvious advantages in terms of the environment and sustainability.

An efficient machine constructed of timber and inspired by industrial functionality has been placed on top, while the base connects the project to the varying ground level sounding the building. These functional volumes create a flexible and robust starting point for the development of a complex program. As a part of the project it is proposed that parts of the program relating to sports and training be accessible to the public, and in this way integrate the school into the local community.